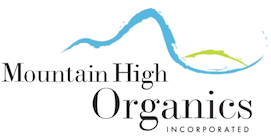 Wholesale Certified Organic Raw Ingredients
Mountain High Organics specializes in the sourcing, procurement, and packaging of a growing array of certified organic raw ingredients that are carefully selected for their taste and quality. We only source organic raw ingredients from farmers who still have a personal connection to their crops. We then provide these organic raw ingredients as value-added products for distribution across all food industry channels. Learn more about our selection today!
You can also purchase our certified organic product line retail ready in the following options:
5 lb. Gluten Free Pasta Pillow Bags
2,000 lb Minimum Order Requirement
Mountain High Organics has complete control over all aspects of its supply chain including receiving, storage and distribution of its organic ingredients. Our supply chain is supported by our state-of-the-art distribution center in New Milford, CT and buoyed by our two mid-west distribution centers.
Mountain High Organics New Milford, CT distribution center was built to be an environmentally friendly facility that includes a high efficiency insulated cooler along with a high efficiency water cooler and high speed cooler doors to minimize thermal exchange between the cooler and the receiving area. All lighting is high efficiency LED lighting, and all forklifts and pallet jacks are electric powered.
Giving back to our community has always been a top priority of Mountain High Organics. By Building our new distribution center in New Milford, CT, it has given us the ability to bring economic vitality and jobs to our community and the people who have supported us over the years.
---
Environmentally Friendly Company
---
Giving Back to Our Community
Inquire about our wholesale offerings fROM the industry leader in organic raw ingredients.